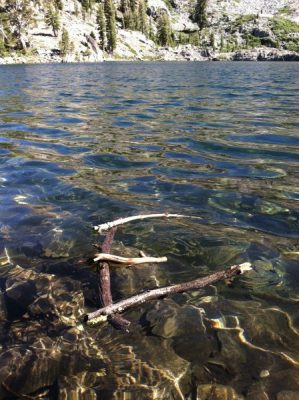 By Kurt Seckington
This past June, I sat on a granite ledge fifteen feet above the crystal clear water of Ralston Lake, in the Sierra Nevada's Desolation Wilderness, watching a driftwood "E" float lazily across the lake's surface. In our family we have a tradition of celebrating our second son, Everett, who was stillborn at 38 weeks on May 22, 2012, by creating "E"s when we are out in the wilderness. We have drawn "E"s in the sand on deserted, windswept beaches, written "E"s with water on warm granite cobbles, and, like this day in the Sierra, placed 4 sticks in the shape of an "E" and floated them out on rivers and lakes.
Fully immersed in the beauty of this moment, I felt the closeness of Everett's presence. I think I have always felt closest to Everett while out in the wilderness. For me, being out in nature provides the space to slow down, free from the daily schedule and distractions of home life to be fully present with what is. I feel I have the time and the headspace to be grateful for all the blessings in my life. In this moment, watching Everett's "E" float across a beautiful alpine lake, I was overwhelmed with how blessed I am to be Everett's dad.
I think part of the closeness I feel to Everett stems from how much more I am at peace with his death while out in nature. Liberated from my expectations and desires to appear to control everything in my everyday life, I am free to sit with the natural rhythms and cycles of life. I find so much beauty in the delicate balance between life and death in the vast ruggedness of Desolation Wilderness.
Sitting on that granite slab, perched above Ralston Lake, I sat in awe of a solitary purple wildflower that had sprung up in the tiniest of fissures in the rock. It's existence appeared so fragile with no apparent soil for its roots, no protection from the harsh alpine sun and wind, and thirsting for a bit of rain from a brief Sierra thunderstorm. Behind me lay a windfall Lodgepole Pine, which stood sentinel in this valley for over 100 years, making its slow return to the earth. My gaze drifted to the 9,200' Ralston Peak, which rises abruptly from the azure waters at the southern edge of the lake. This jagged granite peak, born of heat and pressure some 100 million years ago, is also in the midst of a transformation. While mostly imperceptible to the naked eye, this seemingly permanent mass of rock is slowly being broken down by the forces of water, sun, wind, and ice. The scree field at the base of the peak is evidence that this mountain is slowly crumbling. The pieces of granite that topple off of the southern face of Ralston Peak may ultimately end up in the South Fork of the American River. There, polished by water, sand, and time, they become the cobbles that tumble by our house some 50 miles downstream.
Staring up at Ralston Peak, it's hard not to sit in wonderment at the scope of geologic time. Compared to the granite that surrounded me, my time here is only a blip. While Everett's time on Earth in my wife's belly was short, too short, when considered in the span of geologic time, the difference in length of our blips is indiscernible. I find comfort in this simple fact.
All this is not to say that I didn't also feel a great deal of sadness while thinking about Everett on this backpacking trip. I mourned the fact that he will never experience the shocking refreshment of diving into a clear alpine lake after a long day on the trail or the joy of chasing driftwood boats down a creek as it tumbles down a sun-kissed granite slab. It breaks my heart that I will never cuddle with him in the warmth and comfort of sleeping bag and tent while playing card games by the light of a headlamp.
There were many moments that Everett and I did share while on this trip. When I sat watching the strawberry glow of sunrise bring light and life to the bare, majestic granite of the Sierra Nevada, I absolutely felt that Everett was there with me. He lives in the beauty I find there. I know I can always come to these serene places and sit in awe of the cycles of the natural world. Here, I feel Everett's presence around me and feel peace with his place in the natural order of this world.
Eventually, pushed by a gentle breeze across the tourmaline water of Ralston Lake, Everett's "E" bumped into a rock outcropping, breaking into its pieces, gone as quickly as it was formed, and I cherished the beauty of this moment that I shared with him.